Having a Baby on Dialysis
By Fresenius Kidney Care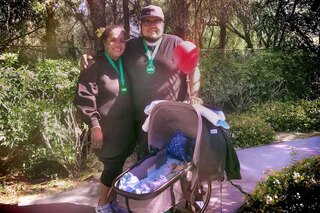 Not long ago, few patients—or doctors—thought a woman could become pregnant and have a baby while on dialysis. Even today, it is rare. With the help of her Fresenius care team, Margaret Pousima is living that dream.
Margaret dialyzed while pregnant last year, and had a healthy son in January of 2019. In the last 5 months of her pregnancy, she had daily treatments at her clinic. She met often with her nephrologist as well.
"It's been a miracle," Margaret said. "I never thought this would be possible."
A New Reality
Margaret has both diabetes and high blood pressure. She found out that her kidney function was just 8% before she was pregnant. In pregnancy, kidney failure can cause blood pressure to spike even higher. This can cause extreme swelling and other health issues.
"Everything started to go downhill fast. I told my husband when we got married that we would never be able to have kids," Margaret said. "We had always wanted children, but I told him it was not possible because of my health problems."
A Healthy Pregnancy Made Possible
"Stakes are high, emotions are high. But, with dialysis, you can get patients to term more than ever before," said Dr. Kam Kalantar-Zadeh. He is the Medical Director of Fresenius Kidney Care University Dialysis Center of Orange, and a Professor of Medicine at the University of California Irvine. "This helps change public perception of what it means to be on dialysis. You can lead a normal life."
Margaret credits her care team with making her pregnancy as positive and stress free as possible. Born at about 6 pounds, Aiden is thriving. Margaret still dialyzes at her same center. And, she celebrated a day she never thought would come: her first Mother's Day as a mom.
This story is current as of May 2019 and was republished with the permission of Fresenius Kidney Care.