A Ringside Seat-Kickin' It with MMA Fighter and NxStage User Matt Kelly
By NxStage Medical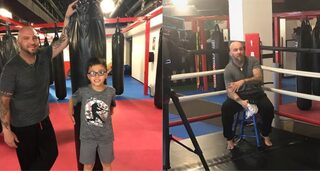 On any given evening, Matt Kelly typically makes his way to the gym, the jogging trail, or the boxing ring to give his body a boost and/or a beating. At 38, and in what he considers "the best shape of his life," he has a number of reasons for subjecting himself to a strict and grueling fitness regimen. For one, it keeps him healthy – physically, mentally, even spiritually. Secondly, Matt conditions his mind and muscles for something that very few can claim to do – competitive Mixed Martial Arts (MMA).
But there's something else about Matt that sets him apart. Something that most who meet him would never guess, not even those who face him in the ring. Matt has chronic kidney disease (CKD) and has been on dialysis since 2016. That's when a physical revealed his kidneys had failed due to extremely high blood pressure, which had gone untreated for several years.
Unlike many dialysis patients, Matt had been able to keep his body in peak physical condition even while his kidneys were failing. But like all dialysis patients, since learning of his CKD, he's had to make difficult choices regarding his health and lifestyle. One of those sacrifices was giving up on his dream of firefighting.
Regardless of the impacts, Matt strives to make dialysis part of his life, but not allow it to control his existence. "I want to prove to folks young and old battling with kidney disease that you can still live a successful life and continue to fight for your health and not let this bring you down."
Matt does more frequent hemodialysis with NxStage System One, which he describes as "very simple and easy." He has the full support of his father, who is also his care partner, and 8-year-old son Ethan Torres-Kelly, who is also his biggest fan.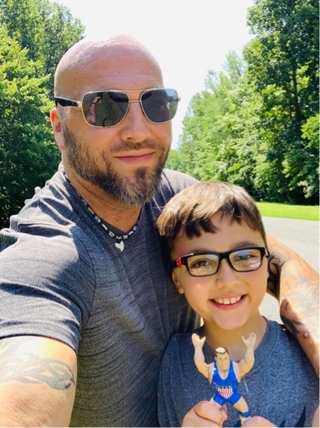 Q&A with Matt
An undefeated amateur boxer, Matt's last event and victory came during a Toughman contest in West Virginia, not long before he received his diagnosis. In advance of his first competition since that time, and his first MMA contest ever, Atlas spent a bit of time getting to know Matt Kelly, to learn about his life as an athlete, a dad, and yes, a dialysis patient.
Talk about when you first learned you needed dialysis.
I wasn't quite sure how to feel. I honestly didn't even know what dialysis was before that. I did as much quick research as I could after the diagnosis and learned more about the disease and treatments. Then it became frightening and a bit scary. And I don't get too shook about things in life. My biggest fear was not being able to pursue my new career (firefighting) and the fear of the general unknown about this disease.
How did you find out about home hemodialysis (HHD)?
Kidney patients go through a lot of very difficult things with their bodies and their minds. From the time I wake up in the morning until the time I go to bed at night, this disease is constantly on my mind because it has to be. I have to be aware of every piece of food and liquid that I put into my body.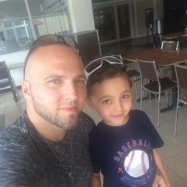 How does dialysis affect your life?
I put it like this … If you have a young child, you know every night, no matter how much that child gets on your nerves, you're going to give that child dinner and a bath and take care of the child. PD was my child. At 9:30, 10 o'clock each night it was just "OK, it's time to set up the machine, time to take care of the baby." It becomes something you do secondhand.
Did CKD affect your ability to train and compete?
Yes. I was a high-level striker and boxer for several years before I got sick. I trained with former world champions. It was difficult for me to take almost a year off after I got sick and stop most of my exercise and training routines. Once I got my health back under control, and with my doctor's approval, I slowly started to train again. I became more interested in mixed martial arts and kickboxing at that time and linked up with some local trainers. They told me I should have trained in these art forms a long time ago because I had a tremendous amount of talent. I fell in love with these new forms of combat sports. I feel my training and soon-to-be competitions go hand in hand with this disease that I fight against daily, because it literally is a fight for my life and health.
How do you maintain a positive mindset?
My faith, family, support team, my training and exercise all contribute to me being able to function with as much positivity as I do with my life and frame of mind. I have an awesome 8-year-old little boy who brings a ton of happiness to my life. I have challenging days to say the least but I am determined to approach every day with a positive outlook and gentle appreciation.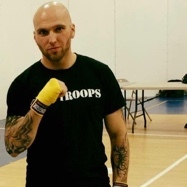 What does your typical workout/training include?
Various forms of training – strength training, weight lifting, kickboxing, boxing, wrestling in a class setting – as well as with my fight team and trainers. Lots of jogging, jump rope, core exercises. Really anything that boosts my adrenalin makes me feel much better and I actually forget that I am a patient during those times.
How do people react when they find out you are a dialysis patient?
When I explain the lifestyle I live, and the challenges, most people find it incredible how I am able to do what I do and have a positive outlook on everything. Most people that see me say I look completely healthy … and I always say thank you and smile, but I also assure them I have some really challenging days and I do my best not to let that show so much.
What is the best advice you'd give to a new dialysis patient?
Accept your situation and give yourself as much time as it takes to grieve the situation. You have lost control of a big part of your life. If you can do treatments at home, I HIGHLY recommend that. Find things you enjoy … like hobbies, work and things that bring fulfillment to you. Do them often. Take care of the rest of your health. Actively pursue a transplant. Surround yourself with positive people. Enjoy the little things in your life.
What are your goals for the future?
My goals are to continue to raise a successful little boy into a respectful and driven young man. I want to continue to contribute to the fitness community as well as training and teaching kickboxing and martial arts. I'd like to compete well into my 40's if my body allows me. I want to continue to work and excel at my job and careers. Entrepreneurship, motivational speaking and sharing my story with others to help them and bring awareness to the importance of keeping regular doctor appointments and getting regular blood work drawn to stay ahead of potential dangers.
I am working with a hospital toward hopefully receiving a transplant but in the meantime, I'm grateful for life, and for the strength and positive energy around me that fuels me to do the best I can and manage what I can.
Risks and Responsibilities
The reported benefits of home hemodialysis may not be experienced by all patients. Despite the health benefits that home and more frequent hemodialysis may provide to those with chronic kidney disease, these forms of therapy are not for everyone. Please review this information carefully and discuss it with your doctor as you evaluate your therapy options.
Personal and Partner Responsibility
If you choose to do more frequent home hemodialysis, you will be responsible for complying with your dialysis prescription, which may require treatments up to six days per week.
Treatment Environment
You must ensure that you have a clean and safe environment for your treatments. You also need to set aside space in your home for the needed supplies.
Risks Associated with All Forms of Hemodialysis
All forms of hemodialysis involve some risks. These may include high blood pressure, fluid overload, low blood pressure, heart-related issues, vascular access complications, cramps, backache, headache, dizziness, nausea, an "off" taste in the mouth, fatigue, fever, chills, joint pain, itching, seizures or sinusitis.
All hemodialysis therapies also involve the use of medical devices that introduce the potential for additional risks including air entering the bloodstream, damage of red blood cells, inflammatory reactions, blood chemistry imbalances, blood loss due to clotting of the blood tubing set or accidental blood line disconnection or other leak, allergic reactions, and excess warming or cooling of the dialysate. In addition, dialysis patients may have other underlying diseases that may, in some cases, make it more difficult for them to manage their hemodialysis treatments.
Risks associated with More Frequent Home Hemodialysis
Studies suggest that patients performing more frequent home hemodialysis may experience slightly fewer complications associated with their treatments and may experience improved clinical outcomes. However, there are certain risks unique to treatment in the home environment. Treatments at home are done without the presence of medical personnel and on-site technical support. Patients (and their care partners, if required), must both be trained on what to do and how to get medical or technical help if needed. When vascular access is exposed to more frequent use, infection of the site, and other access related complications may also be potential risks.
This story was republished with the permission of NxStage Medical.
Veiw the original article here.