Help! I Need Dialysis!
How to have a good future with kidney disease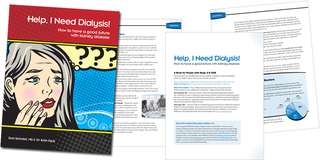 A life-long kidney patient educator and an internationally-known nephrologist explain how dialysis works; each of the ways to do it; and how your treatment choice may affect your diet, energy level, work, travel, sexuality and fertility, sleep, and survival. Comprehensive and fully referenced, this book is a must-read if you face the life-changing choices that come with kidney failure.
---
Contents
Become Your Own Expert (Read this sample chapter)
Coping with Crisis
What Kidneys Do for You
When Kidneys Fail – Symptoms from the Loss of Homeostasis
How Dialysis Works
Standard In-Center Hemodialysis
Peritoneal Dialysis (PD)
Short Daily Home Hemodialysis
Nocturnal Hemodialysis
The Care Partner's Role in Home Dialysis
System of Dialysis Care and Medicare 101
Choosing a Dialysis Clinic
How to Protect Yourself in the Hospital
…and more!
---
WHAT PEOPLE ARE SAYING
As a social worker in dialysis I ordered the book and read it. I was so impressed with what it had to say to the dialysis patient I began to pass it around to my readers. It has snowballed and many are lining up to read it. Some patients have ordered it for themselves to share with their families. I think you have made a great contribution to the dialyis community.
ETHEL M, MSW
For the patient or family member seeking scholarly information about dialysis options, there is no better guide than this book. The book is easy to read, visually appealing, and balanced in the information of options. With logical presentations of the chapters, patient testimonials, and helpful checklists, I found this book to be THE resource for understanding dialysis options.
STEVEN GUEST, MD Author of Handbook of Peritoneal Dialysis; Director, Medical Consulting Services, Baxter Healthcare Corporation, McGaw Park, Illinois
I received your fabulous new book, and it's wonderful. I walked it around the hospital to show to all the renal fellows I could find. I gave them each a speech about MEI and the book, and they thought I was fabulous for knowing about such cool things. I gave away my bookmarks and went back to the website to order more. I will encourage all of the staff I work with to read it. I think it will help them teach patients in a very accessible way.
MEGAN R. PRESCOTT, LCSW University of Colorado Hospital Chronic and Acute Dialysis Units
As a care partner, I feel patients, caregivers, and medical providers should be required to read this book at least 5 days within starting dialysis, but preferably way before starting.
CLAREEN ERICKSON
This is the most comprehensive, factual, patient-oriented book about dialysis that I have read in years. As a dialysis nurse, I find it a wonderful teaching tool that assumes the patients can understand, and explains in a non-patronizing manner. And as a dialysis helper for my husband who started home nocturnal hemodialysis in 1979, it is a remarkable resource. I think anyone connected with dialysis, professionally or as a consumer, could easily benefit from this book.
ANN GRAY, CHN, CCRN, RNC
---
ABOUT THE AUTHORS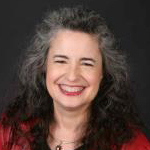 Dori Schatell, MS, is Executive Director of the non-profit Medical Education Institute, and has more than 23 years of experience researching and developing educational programs for people with kidney disease. She has published numerous peer-reviewed articles and launched several award-winning websites, including Life Options, Kidney School, and Home Dialysis Central.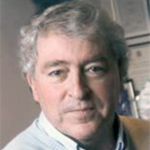 John Agar, MD, is Conjoint Clinical Professor of Medicine at Deakin University School of Medicine and Geelong Hospital, Barwon Health in Geelong, Australia. He is the former Director of Nephrology and Chief of Service (Medicine) at Barwon Health, and continues to practice clinical medicine there. He is also Clinical Associate Professor of Medicine, University of Melbourne, has published many articles about dialysis, and was awarded the Medal of the Order of Australia in 2009 for service to renal medicine in Australia. He also runs the popular website, NocturnalDialysis.org.
Additional Information
ISBN: 978-1-937886-00-4
Paperback: 202 pages